Last Chance to Apply to Pitch at FoodBytes! Netherlands!
FoodBytes! is headed to The Netherlands on May 17 & 18! The pitch competition-meets-networking event will take place in Wageningen as part of F&A Next, the foremost food and ag innovation summit. FoodBytes! invites food, food tech and agtech startups from around the world to apply to pitch hundreds of executives, investors, media and entrepreneurs.
FoodBytes! will select 10 startups to give 3.5-minute pitches and 10 runner-up companies to give 60-second pitches. Since FoodBytes! launched in February 2015, more than 900 companies have applied to pitch to over 1,400 attendees.
Selected companies will have the opportunity to:
Pitch to an audience of investors, industry leaders, media and entrepreneurs (past participants include investors and execs from Anterra Capital, S2G Ventures, Finistere, New Protein Capital, Syngenta, METRO, Innovation Endeavors, Danone, Nestle, Unilever and more)
Have dedicated display space to showcase your product or service
Be in the running to win the People's Choice, Judges' Choice or Highly Commended Award
Take part in an invite-only session of networking and mentorship with industry experts and the FoodBytes! judges. Check out our highlight video of our FoodBytes! Boulder mentorship day
APPLICATION DEADLINE: 11:59 PM CET on Friday, April 7.

Interested in Covering FoodBytes!?
Are you a food journalist or blogger? Interested in covering the innovative ideas catalyzing a more sustainable food future? Contact us to learn more about media pass opportunities. 
What FoodBytes! Alumni Are Saying
"Attending FoodBytes! Boulder was such a great experience for our team and brand; we received valuable feedback from the judges, mentors and fellow demo companies that will help us better establish our brand and achieve our goals of bringing plant-based convenient comfort foods to folks across the country!"
Alex Carone, Co-Founder, The Honest Stand – FoodBytes! Boulder 2016 People's Choice Award Winner
"FoodBytes provided a high profile, high energy venue to put HarvestPort in front of industry professionals and investors. It is always great to be able to reach so many vested parties in one sitting. We generated several follow-up meetings with investors from the event, as well as a few very fruitful meetings with industry folks."
Tim Koide, Co-Founder, HarvestPort – FoodBytes! San Francisco 2016 Pitch Finalist
"Where are you going to find 150-200 investors together in one place, ready to listen to your story and give you face to face feedback? It saves time, money and energy. So start pitching!"
Constantinos Patinios, Co-Founder & CEO, N-CHROMA – FoodBytes! Boulder 2016 Pitch Finalist
About F&A Next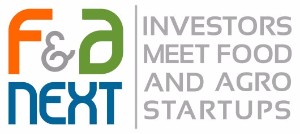 F&A Next is food and agriculture's foremost innovation summit of the year, taking place on the dynamic environment of the campus of one the world's most renowned food and agriculture universities: Wageningen University & Research in the Netherlands. In 2016, the summit gathered over 400 startups, corporates and investors in The Netherlands. The 2017 edition will be a two-day summit with cutting edge business opportunities for startups, corporates and investors from more than 30 countries. The summit will       address key themes such as the gradual shift to smart farming and the convergence of food and health.